---
Modernized Lightweight Carrying Equipment (MLCE)
Pictures and opinions
---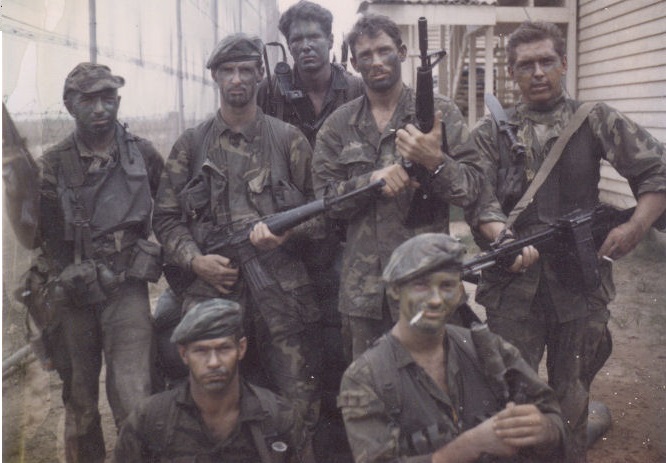 ---
Overview of the MLCE System
This was not meant as a replacement for the M1956 LCE, mearly it was meant for supplemantary use in Southeast Asia ONLY as M1956 LCE was still standard elsewhere. It was probably never issued in complete sets was allways intermixed in with the old M1956 canvas equipment. Some of the items were made en masse, but some of the items had contracts canceled or reduced before many could be made. Because of this the collectors have wildly driven up the prices on and some of it is still very cheap. My opinions will mostly be in how these early items could be integrated in with the later gear. A lot of the noncoms did just this and held onto some of the more usefull items well into the Alice era.
---
M1967 Davis Pistol Belt [MEDIUM] NSN 8465-00-935-6815 [LARGE] NSN 8465-00-935-6816

The belt for the M1967 MLCE system. It has the Davis T connector. It was found that it came undone far too easily. The ground would push it open. It's also harder to adjust them the Alice belts and does not have the quick extender. Not recomended.
---
M1967 H suspenders NSN 8465-00-935-6830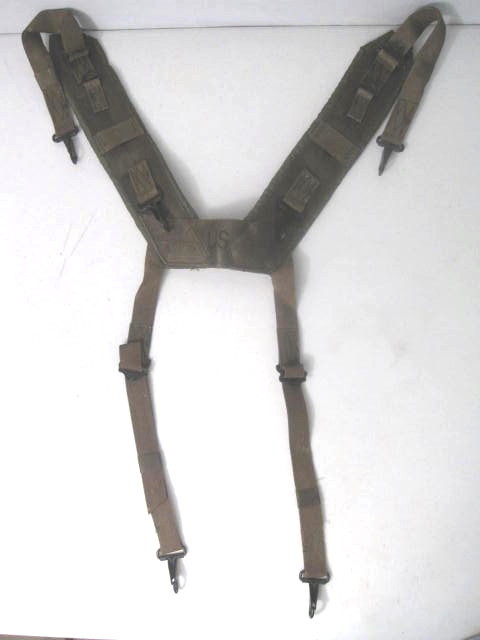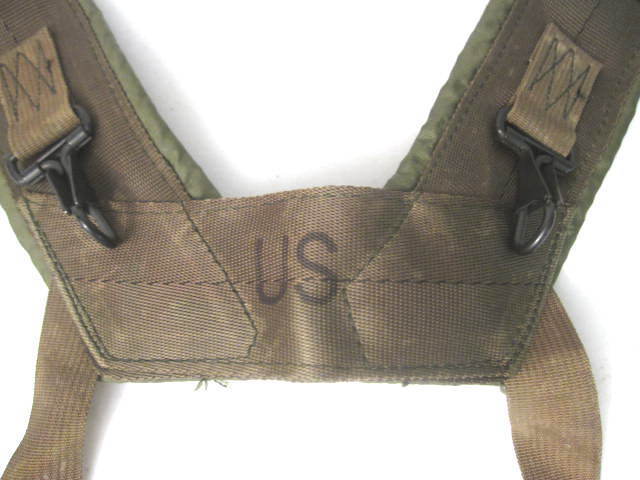 These are nice if you want to pay a little more for them. They ride better with the existance packs and they have two extra hooks that will carry a special sleeping gear carrier or you can move your butt pack up and clip it into them. My only beef is the suspenders in the back ride over the shoulder blades. But it's a usefull item and has some nice features dropped in the Alice suspenders
---
M1967 Sleeping Gear Carrier NSN 8465-00-935-6813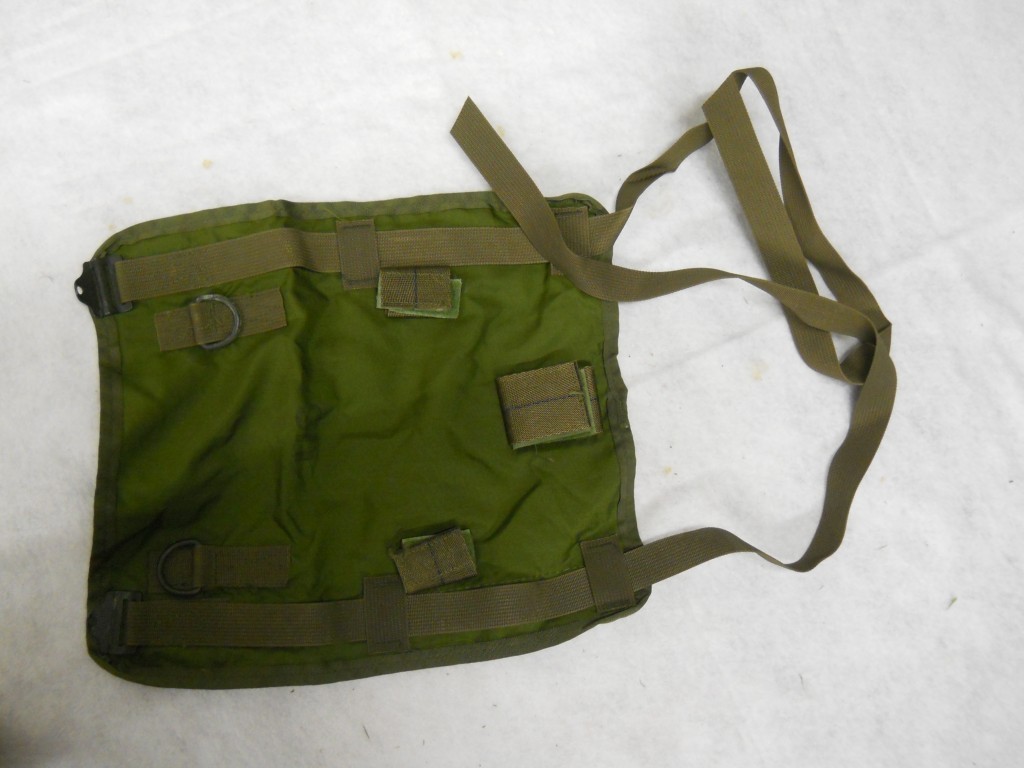 This only works with the M1967 suspenders, Because of this it is rarely found used, almost allways it is found new never used. Tt is easily found and decently priced. It's worlds better the the M1956 spagetti straps. If you have the M1967 suspenders and want to carry along your sleeping roll or your poncho and liner, this will work for you.
---
M1967 E tool carrier NSN 8465-00-935-6826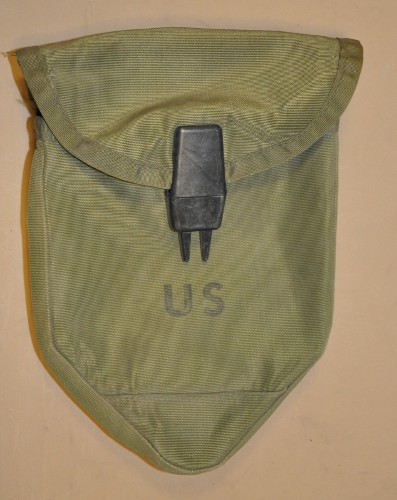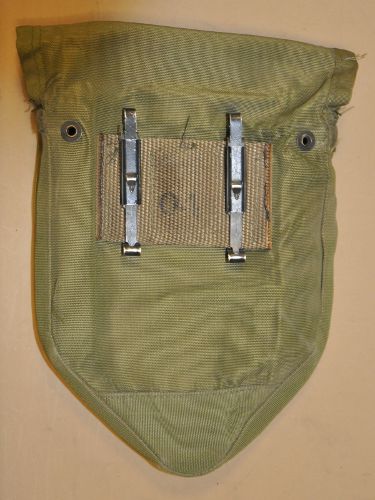 This is worlds better then the Alice plastic clamshell version, Resonably priced as well. The Shovel made with this pouch is STILL standard issue today with a Molle pouch.
---
M1967 1qt Canteen cover NSN 8465-00-860-0256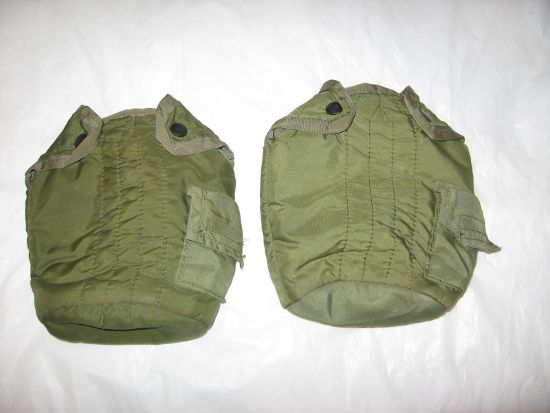 Functionaly this is not any different then the Alice canteen cover. It's woven and made differently but thats it. About the same price too
---
M1967 Compass or Field Dressing Pouch NSN 8465-00-935-6814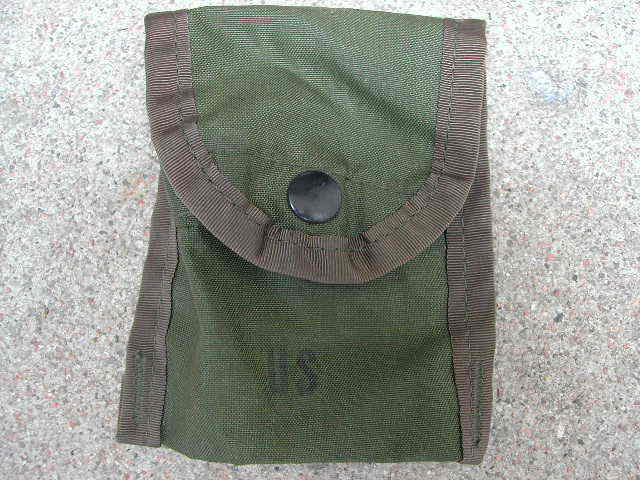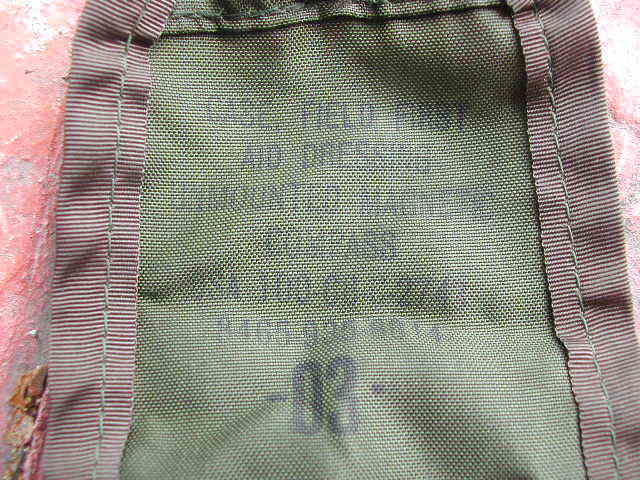 Functionaly this is not any different then the Alice one. It has a plastic snap. However it's rare as heck and an extremely desired collectible. Pass on it for this reason.
---
M1967 Butt Pack NSN 8465-00-935-68256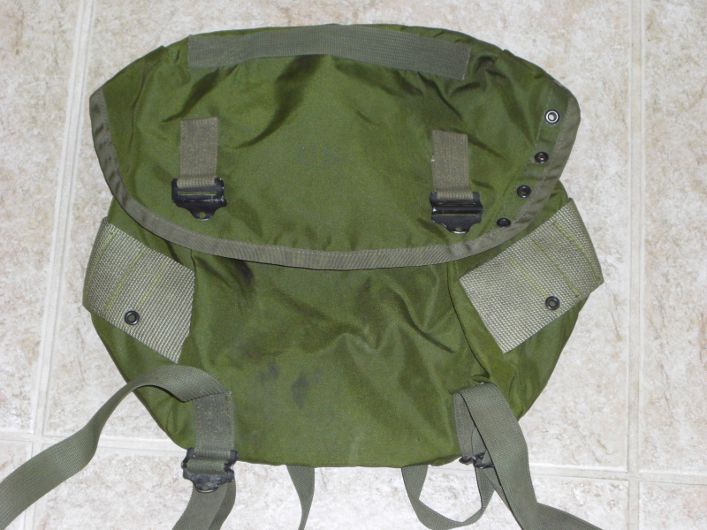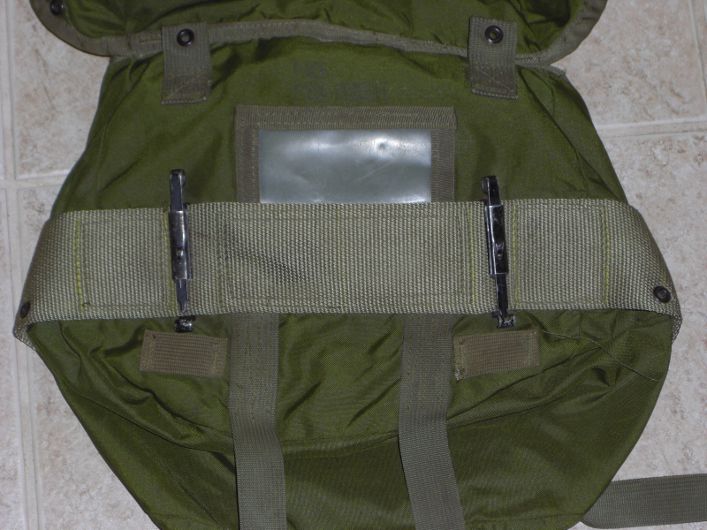 This is the 1967 original version of an item that survived to be used into the preceeding two systems. This original has a couple slight differences. I am told only 500 of the originals were made. Get the later field training ones as this is a bit of an expensive collectible now.
---
M1967 Small Arms Pouch NSN 8465-00-935-6780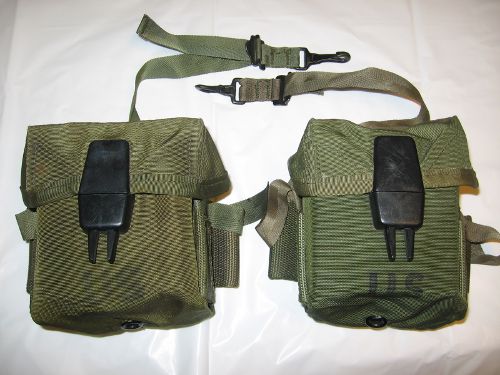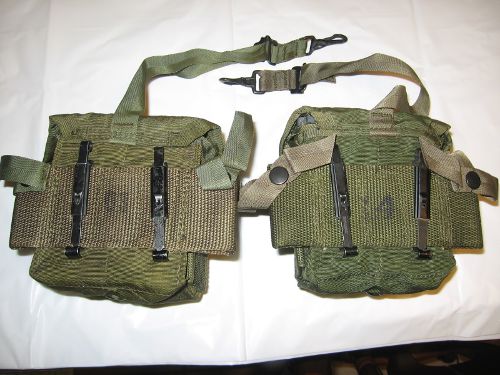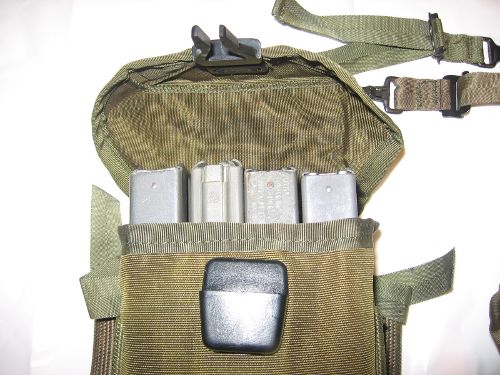 These are for 20 round M16 mags and two gernades. It has a clip that goes up on the suspenders that holds it up when full. It won't fit 30 round 5.56 mags or 20 round 7.62 mags. However they do fit five of the 15 round M1 Carbine magazines per pouch quite well.
---
M1969 M16 30 round pouch NSN 8465-00-926-6610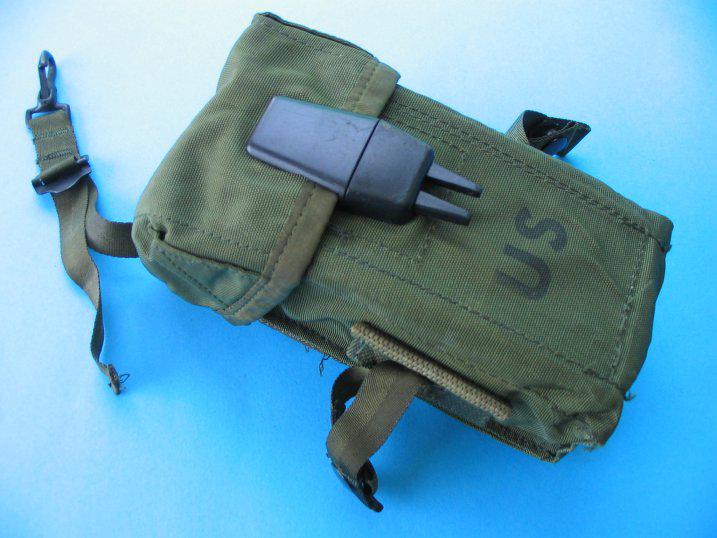 Adoption of the 30 round M16 mag forced the change to the mag pouch. This one is semi scarce but can be found. It's a collectible really now. Pass on it for that reason
---
M1967 M14 Magazine Pouch NSN 8465-00-141-0928
This has an internal divder. Holds 2 mags, Extremely rare if it even exists. Advanced collectors have never even seen this. But the NSN and description of the specs exisits so it is listed here.
---
---
How to contact me!
Click on my name to email me!
Shawn Noe
---